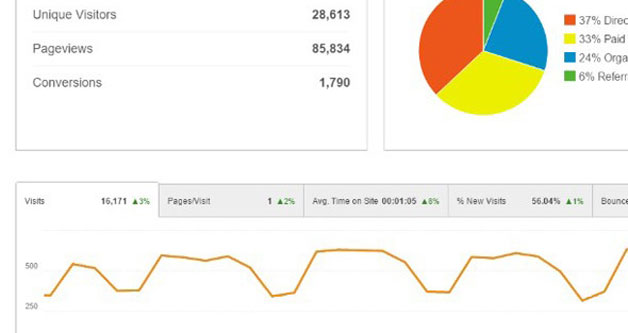 Full Stack Marketing Reporting For Clients
Full Stack Monthly Marketing Reporting
End of month reporting often brings tears whether your results were great or awful. You need a full report on what changed so you can follow up and make sure next month is even better. Stack Digital is a full service marketing agency and helps you improve any and all marketing channels and our reporting must also be multichannel.
The following is a quick walk-through of what you can expect for reporting as a Stack Digital customer. We will help you monitor as much detail in your marketing as possible and our automated reporting, available to you 24/7 through our client portal, is the first step in that process.
What We Track
We are able to track: SEO, Search Console & Google Analytics, Adwords, Call Tracking & Social Media. (We are working on both email & content reporting.) Inside each module are several submodules that help us with your reporting. For instance, SEO displays Rankings, Backlinks, Competitors and a Site Audit tool (a work in progress via SEMRush.com.)
Click the images below to enlarge and see within each module of our reporting tool.
Monthly Marketing Reports
Our monthly reporting is a custom-built report for each client focused on their specific needs. The report is then automated to a certain date and time and delivered to a set of email addresses. The report setup looks a bit like this:
If you want to see a sample report, please download one here. We know other marketing agencies will be curious and honestly, it's easier just to ask – it's all yours.
Marketing Reporting & SEO Keyword Tracking
Our keyword reporting tool shows the current Google & Bing position alongside the improvement over time. The time is set in the upper right of the panel near the settings. A Google ranking of 12 with a Google change of +22 means the site used to be ranked at #34 and is now #12, a great improvement for our keyword. These search engines can be set to Google AU, Google.com or any other version your campaign requires.
Multiple Site Overview
Are you tracking multiple campaigns with us? Our user-friendly dashboard allows you to see your website thumbnails and a collection of ALL your campaigns from one screen. If a thumbnail looks broken, the site may have problems. This allows us to be proactive with fixing client websites before they are down for days or even weeks. The thumbnail is updated regularly but can be scheduled for manual override very easily.
Your Marketing Dashboard
This one is more fun to show than tell. Here is a setup for a sample dashboard (we haven't linked our Adwords data below and did not have a LinkedIn page setup for Stack at the time of this screenshot.)
This is a very quick overview of your main marketing metrics. As you can see, the time-frame also can be applied so you can see changes in 7 days, 30 days, all time or a custom date range.
Individual Keyword History
Have you ever wanted to see the movement of individual keywords but your SEO agency's software just doesn't let you? #solved  With our rank tracking software, your keywords are checked daily and results are posted to a nice graph for you to continually monitor.
Cumulative Rankings History
Your marketing reporting can also include a cumulative rankings progress chart. See how you were doing over the past 30 days including a colour chart that notes top 1-3 spots, Page 1, Page 2 and Page 3-5 before dropping off into "51+" territory. Easily visualise progress, see how many keywords are hitting those very top positions and monitor the overall campaign movement.
Charting Your Reporting Metrics
Monthly reporting on key metrics helps you visually monitor traffic, calls, social media progress and other trackable KPIs. This chart can be built into your monthly emailed report or you can view it directly in the dashboard. (Before any competitors sniper me through my window, the data below is a sample only. We weren't getting 50,000 visits in the first month our site was live.)
So there you have it! A quick look inside our marketing reporting and tracking software. A free sample report if you wish. And of course, all the transparency about our workings as we can possibly offer.
Interested? Contact us to learn how this dashboard can be your dashboard.